Resume of Carl Lewis Druckman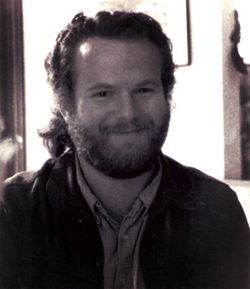 Background:
Born in Northern California in 1958; formative years in Arizona; lived and worked in Salt Lake City, San Francisco, New York City, Albuquerque and Santa Fe where he settled until his death in May, 1996.
Education:
Educated in public and private schools in the U.S. and England including Sotheby's (London) 19th and 20th Century Decorative Arts Course and Gemological Institute of America (NYC). Largely self-taught through extensive reserch and study.
Employment:
Always related to creative endeavors from rare cactus to antique jewelry and decorative arts, vintage clothing and textiles. Self-employment related to designing hand-woven jackets and buying, selling and trading early American Indian metalwork. Freelance research on special projects for private clients and museums.
Designing for STUDIO CLD began in 1985 including fine jewelry and flatware projects. Focus was on the stone purchasing, cutting, stone restyling and construction of both connoisseur jewelry and a limited production collection.
Yearly exhibitor in February during the Tucson Gem Show.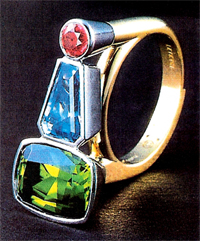 Interests:
Study of the design and construction of studio metalwork of Europe, Mexico and USA. Men's and boys print shirts of the 1930s to 1960s and Folk Art furnishings. Design of flatware, tableware and textiles. Carl contributed to the January 1992 CONNOISSEUR and other publications on Antique Indian Jewelry and Metalwork and was a recognized dealer. Based on his personal collection, he was preparing, with a collaborator, a book entitled "Navajo and Pueblo Metalwork, 1880 - 1950: Masterworks and Eccentricities."
Exhibits:
-American jewelry of New Mexico -- Summer 2018 -- By Invitation Only:
-"OUT OF THIS WORLD! Jewelry in the Space Age" -- By Invitation Only:
-The Forbes Galleries (NYC) -- March 16 - September 7, 2013
-Carnegie Museum - Wertz Gallery (Pittsburgh) -- June 26, 2015 - January 4, 2016
Awards:
-DIAMONDS TODAY 1991 WINNER - DEBEERS COMPETITIONS
-WINNER S.N.A.G./J.A. NEW DESIGNER EXHIBIT SPACE, PIER SHOW, JULY 1991
Publicity:
-ECLAT PARIS INTERNATIONAL VOL. 20, 1990 (PROFILE)
-LAPIDARY JOURNAL DEC 1990 (COVER STORY)
-NATIONAL JEWELR VOL. 34 #10 1990 (DESIGNERS DISCOVERY)
-JEWELERS CIRCULAR-KEYSTONE MAR 1990 (WHAT'S NEW)
-AMERICAN JEWELRY MANUFACTURER FEB 1991 (COVER STORY)
-JEWELLERY INTERNATIONAL FEB/MAR 1991, PREMIER ISSUE, LONDON (COVER STORY)
-JEWELERS CIRCULAR-KEYSTONE FEB 1991 (SPECIAL DIAMONDS TODAY 1991 INSERT)
-JEWELERS CIRCULAR KEYSTON AUG 1991 (JA'S NEW DESIGNERS...FOR THE '90S)
-AMERICAN JEWELRY MANUFACTURER NOV 1991 (BIRTHSTONE BRILLIANCE)
-TOWN AND COUNTRY AND CONOISSEUR NOV 1991
-AMERICAN JEWELRY MANUFACTURER JAN 1992 (MODERN MINERALS)
-CONNOISSEUR JAN 1992 (COLLECTING)
-JEWELLERY INTERNATIONAL DEC/JAN 1992/1993 (TUCSON: AMERICAN STYLE HOT GEMS)
-AMERICAN JEWELRY MANUFACTURER OCT 1994 (GEMS AND JEWELS)