Reprints and Publicity
A Conversation with Carl Lewis Druckman about his Jewelry Designs: 2/12/1990
While the process of designing is very spontaneous for me, I have a serious respect for the history of Art and especially the history of Jewelry design. It has been an ongoing subject of study for me since I was very young. Obviously, the quality of my work has been enhanced with study and age, but the drive to create respectfully is an integral part of my nature. I consider my designs a form of Fine Art. The look and quality that I want is achieved by detailed conversations with the artisan-craftsmen with whom I work to produce the finished pieces.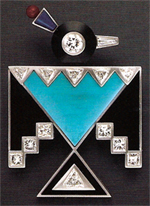 While I admire the intricate work of the masters, I have no desire to copy them. Instead, I want to proceed from where they have left off. So I work to interpret my visions using the finest stones and precious metals I can find in simple, clean, and complimentary settings for men and women who are appreciative of fine design. Today my customers are dressing themselves and furnishing their homes with superior design. I believe that they are interested in and looking for jewelry that reflects their appreciation and discrimination. I think my style is very international and will be appreciated as a link between the 1990s and the 21st century.

I use precious and semi-precious stones including those in the Tourmaline, Spinel, and Garnet families which offer a broad color spectrum and yield the most consistantly eye-clean stones. These materials are extremely durable as well. I buy only natural stones which, on rare occasion, may have been heat-treated to enhance their natural qualities. Examples of this would be Tanzanite and Sapphire and to the best of my ability I would disclose this information if treatment has occured. I will also supply certification upon request.

The opaque and translucent (semi-precious) stones I use are, for example, Lapis, Jades, Rhodonite, Turquoise, Cinnabar in Matrix, Covellite, Pectolite, Sugelite, natural metals in matrix, Agates, Petrified Dinosaur Bone, Chalcedony, etc. I search for rare and unusual examples of these materials outside of the normal marketplace and turn to old collections of rough materials to which I have access.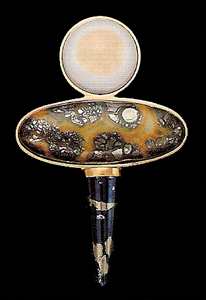 I purchase this semi-precious material in both the rough and cut forms which I then refine, shape, and polish. These stones have great personality and qualities that are unique from transparent materials. I use semi-precious stones on their own and in combination with precious stones. The colors and patterns are infinite and very exciting. In setting, I like to expose the polished backs with geometric metalwork when it is feasible.

"Studio CLD" and the "Carl Lewis Druckman" representative Logo are registered in the United States and that registration is protected, regularly renewed and, wherever possible, stamped on my jewelry. Some one of a kind pieces are stamped with a year code in Roman Numerals.
Masterworks and Eccentricities: The Druckman Collection; Navajo and Pueblo Jewelry and Metal work 1880 - 1950
"Intense, structured, with a guarded sense of whimsy." That's how Carl Druckman described his jewelry designs-and perhaps how he defined himself as well.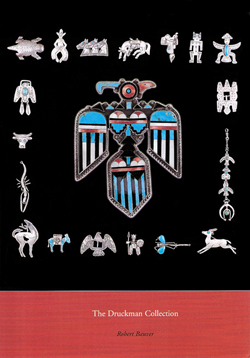 I met Carl, appropriately enough, at an antique show. Over the next fifteen years, we would spend countless hours in similar venues and pursuits. Our initial introduction came as we were both looking at an early Navajo concho belt. He showed me a Lalique stick pin he was carrying in his ever present shoulder bag. We started talking about jewelry and never stopped.

That first meeting occurred soon after Carl's return from London, where he had been enrolled in a course of studies on 19th and 20th century decorative arts offered by Sotheby Park Bernet and Co. His main focus then, as always, was on jewelry. But getting to know Carl meant learning about all his various interests, from fabric art to folk art. Visiting his many residences became an introduction to whatever new creative directions he was investigating. I recall being driven around Santa Fe in a car that can only be described as a rolling art installation.

Studying both diamonds and colored stones in residence with the Gemological Institute of America (GIA), Carl was certified as a Colored Stone Gemologist in 1980. His previous studies and energies coalesced in 1985 when Studio CLD came into being.

Studio CLD designed and produced fine jewelry and flatware. Its work, exhibited at national shows, gained immediate recognition for elegant simplicity. Bold design and prominent use of colored stones, in part influenced by southwestern jewelry, were the hallmarks of Studio CLD.

In 1990, Eclat:Paris heralded the studio with the following comments: "Gift for multiplicity of forms ...settings as lovely as the gemstones ...a master." A year later Studio CLD's Thunderbird pin was one of the winners of the Debeers Diamonds Today Award, and Carl received a Complimentary Exhibit space in the New Designer Gallery of Jewelers of America.

Studio CLD went on to be featured in articles appearing in many jewelry circulars, but Carl's alter ego remained that of a collector. He applied the same passion to the acquisition and study of Native American jewelry that he did to his own creations. After first compiling a substantial collection of early material, his interest would turn to the eccentric, figural jewelry and objects made for the tourist trade.

Early Navajo spoons and flatware in myriad forms and expressions of fancy were the focus of a collection that was one of the largest, most comprehensive assemblages of its type in the country. That flatware, now in the permanent collection of Wheelwright Museum in Santa Fe, recently played an important role in the first in-depth investigation of Navajo spoons and will likely serve as the basis for future studies as well.

It was during the search for Anglo-inspired, Indian-produced tableware that the related objects in this catalogue caught Carl's attention and entered his growing area of collecting.

Seeking only the very best and most unusual in the figural aspect, Carl's collection soon grew to include the intricate multistone inlay work done by the Zuni. Art and antique shows, auctions and older private collections were the primary sources for material. When, in his twilight years, retired trader C. G. Wallace, considered to have the greatest collection of Zuni jewelry, parted with a number of long held, family collection pieces, Carl was able to obtain them for his own. These pieces, along with silver and turquoise objects and jewelry obtained over many years, comprise the Druckman collection.

It had always been Carl's intention that this group of selected material be used for a traveling exhibition, accompanied by a book to inform collectors and dealers of the importance of these non-jewelry items in the history, development and chronology of southwestern art.

This catalogue will be that book. Carl's planned title has been used for the effort, and quotations from his original notes and manuscript appear in these pages. This project can only in small part fulfill his plans, but it has been done with him very much in mind. I hope he approves.

My thanks to Sue Siegel Laventhol, Carl's mother, for access to Studio CLD material and notes from interviews with Frank Vacit and Pat Kelsey, and for her long hours, dedication and commitment to making Carl's wishes a reality.

With all due respect, Robert Bauver
ECLAT April 1990 - Profile: Carl Lewis Druckman
Thirty-one-year old America designer Carl Lewis Druckman hasn't created a stir for himself - he prefers to remain in the shadows, protected from the gaze of the indiscreet, while he devotes himself to the meticulous preparation of his grand entrance into the world of fine jewellery. In July 1990 he will be launching a new and stunning line based on precious and semi-precious gemstones. Here is a line that will definitely serve as a focus of interest at the next Jewelers of America Show, where it will be exhibited for the first time.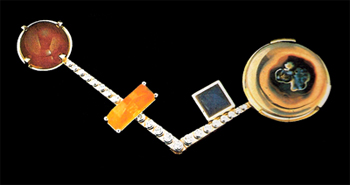 Carl Lewis is heir to a dual tradition: first, his artist and connoisseur ancestors who passed down to him a love for form, composition and colour contrast and second, the landscape of the desert, which gave him his love for rough natural materials, their simplicity and also their appealing touch.


Druckman's mother is a potter and his grandparents were connoisseurs of distinction. He spent the first part of his youth in the desert country of the American Southwest, where he was an avid collector of Navajo Indian artifacts. It is from this period that he still retains his fascination for natural colours; but it was also during this period that he made his first contact with jewellery and ornamental art. His zest as a collector was never to flag, and to his initial troves of Indian jewellery he later added Scandinavian and American Art Deco pieces.

After these auspicious beginnings, Carl Lewis Druckman devoted himself completely to jewellery. In 1980 he studied at the Gemmological Institute of America and was awarded a diploma with a major in Coloured Gems. While this could have been the beginning of a conventional career in men's and women's jewellery, it actually turned out to be just one phase in an unstructured process for mastering his craft.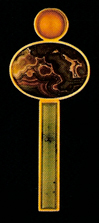 After graduating from G.I.A., Druckman wandered freely around the USA, earning a living at different trades, all of which, however, were somehow connected to art (antique dealer, broker, etc.). Thus he added practical experience to his acquired knowledge of the arts.

In 1985, Carl Lewis Druckman settled down and launched the project that had always been closest to his heart: the creation of an original jewellery collection based on the stones that had attracted him ever since his teenage years. The pure forms of the brooches he produced during this period were a sharp departure from the prevailing jewellery fashions.

Discipline, clean lines, architectural forms - these are the concepts that immediately spring to mind as descritptions of this artist's work overall. Any outside influences on this original artist would be hard to identify. "I design very quickly and spontaneously," says Druckman, demonstrating both his great facility where from is concerned and his undeniable independence of character. But if he designs with ease, the demands he makes on himself when it comes to giving them concrete form amount to an obsession. All of Druckman's pieces are remarkably well-finished and his settings - signed by their creator - are as lovely as the gemstones inside them.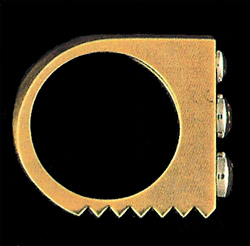 Druckman may be a relatively unknown name at present, but in terms of talent, he is already a master.

And the crowning touch is this jeweller's gift for a multiplicity of forms. He has already designed two complete sets of tableware, the first purchased by a major Japanese manufacturer and the second by a German... a good beginning! Furthermore... Druckman has not abandoned his original Indian friends, either; a current project is a book on the Navajo and Pueblo tribes and their native jewellery.